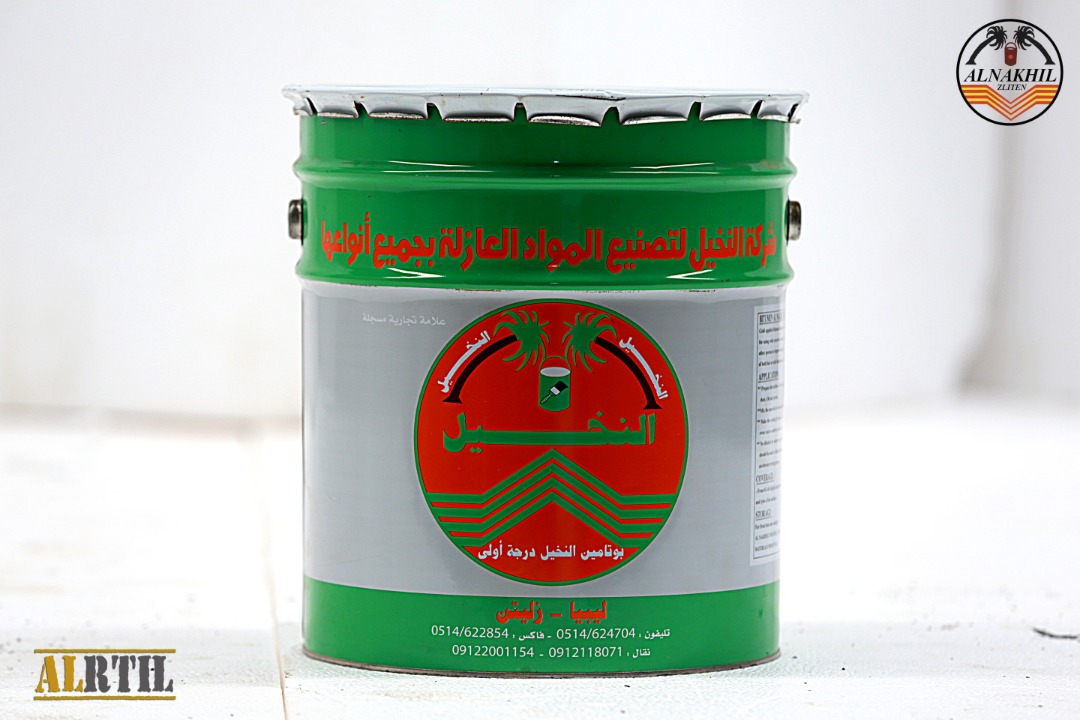 Application Tools :                                                 
Application Tools:                                             
ALNAKHIL BITUMEN First Degree 
ALNAKHIL BITUMEN First Degree
SOLVENT-BASED COLD APPLIED BITUMINOUS PRIMER COATING.
ALNAKHIL BITUMEN First Degree is a cold applied ready to use bitumen primer coating with excellent adhesion, bases on selected bitumen blended with special petroleum solvents and additive
Single component.

 Easily applied.

 Ready to use.

 Creates good adhesion and bond between the membrane and substrate.

 Good penetration behavior with surface pores of concrete to ensure optimum adhesion.

 High coverage rate.


 Good dust absorption property, hence preparing the surface for effective bond between the substrate and membranes.
 As a damp – proof membrane For :-
– Concrete and masonry.
– Foundation footings.
– Ground beams.
– Retaining walls and basements.

Priming coat for general uses.


Protective coating for concrete.

AS A COATING :
ALNAKHIL BITUMEN

First Degree

 can be used as a protective.

Coating for foundations, for building facades (under curtain walls) and other structural components.



S.G at 25°C                            0.87+ 0.03
Saybold furol                       25 – 125
viscosity at 25°C                  sec
Bone dry at 25°C                 24 hrs
Solid content                        40% +- 5%
Water content                     Zero
Shelf life                                12 months
Surface must be clean and dry.

 Surface must be free from oil and greases.

ALNAKHIL BITUMEN

First Degree

 can be applied by brush, roller and airless spray.


Apply a full coat ALNAKHIL BITUMEN (S) direct from drum and allow drying 24 hours.
 Converge should be approximately 2.50-3.50 m3/kg.(Depends on substrate conditions).

The tools must be cleaned immediately after use with petroleum solvent (white spirit).
ALNAKHIL BITUMEN First Degree contains petroleum solvents and is flammable, so good care must be taken during application.
Like all chemical products, avoid contact of ALNAKHIL BITUMEN (S) with eyes, mouth and skin.
If accidental skin contact occurs, remove immediately with clear water and seek medical treatment.
The following precautions are recommended:

Avoid direct contact with skin and eyes.
Keep away from fire or any ignition source. No smoking is allowed during application.
Use gloves during application. Clear all tools by white spirit.
Close package well after use.
Keep out of direct sunlight in covered store.
ALNAKHIL OF INSILATION :

It applies a stringent quality control system utilizing its in-house laboratory.
Occasional sample are analysed by independent laboratories to ensure continued adherence to the highest standards (ASTM, SIN,UNI, etc).
ALNAKHIL BITUMEN First Degree has a shelf life of one year provided that the product is stored under good storage conditions.
Available in:

Drum : 175 kg.

Metal Pail : 16 kg.
PHONE
++(218)912145019
++(218)922145019
Email Address
info@anakhil.com
Contact times with us ..
Days : Saturday – Thursday
Time : 7:00 AM – 7:00 PM