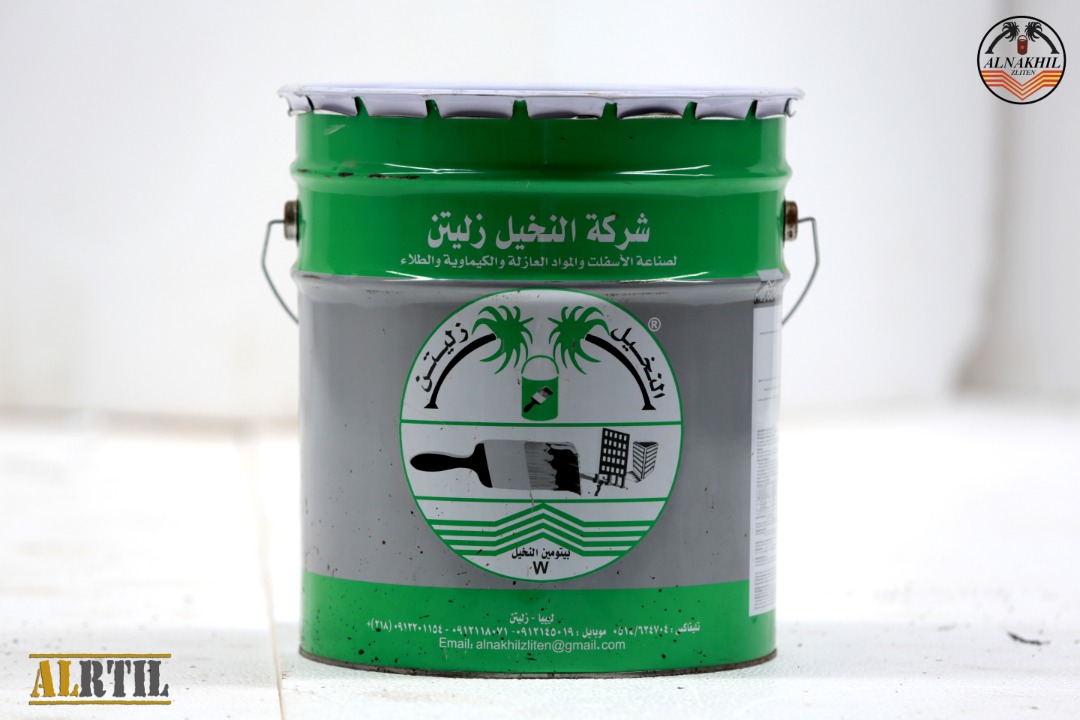 Cold – Applied Bitumen Emulsion For Waterproofing 
ALNAKHIL BITUMEN (W) is a stable, water-soluble emulsion of bitumen, resins, and mineral stabilizers.
it is cold applied on horizontal or vertical surface.
Has an Excellent and strong adhesion on structural materials such as (Concrete, metal wood, bricks,….etc).
When it dries, it gives a strong shining black membrane.
It is not affected by atmospheric factors.
Resists attack of chlorides and sulphates likely to be present in groundwater.
Solvent free.
Easy to apply without any heating thne
economical in coat and labor.
As a damp proof membrane For :
– Concrete and masonry.
– Foundation footings.
– Ground beams.

Retaining walls and basements.

Priming coat for general uses.

Protective coating for concrete.

Complies with ASTMD 1227 type ll class I and Din 18195 part 2.
The Properties of ALNAKHIL BITUMEN (W) are :
S.G at 25C                                            1.058 -+7%
Ph at 25C                                              8.08  -+5%
Solid content                                          38%-45%
Min drying Temp                             2C up to + 40 C
Bone dry                                                    Zero
Complete hardening                            12 months
Shelf life at 25C
Consumption (l/m2)                             0.2 TO 0.5
 Surface must be clean from dust and dirts.

 ALNAKHIL BITUMEN N (W) should be stirred well before application.


 A primer coat is applied of ALNAKHIL BITUMEN N (W) after dilution with water 10-20% using ordinary painting tools that have

been wet before use.

 The dilution is increased in case of highly porous surfaces or when using spraying equipment.

 Apply two coats at right angle. You can begin applying the second coat when the colour has turned from brown to black. This takes approximately from 20 to 30 min. depending on the nature of the treated surface.


After use check that drum or pail should.
 All given rates depend on substrate conditions : 
 As waterproofing coat : 0.750 -0.1 Liter g/m2 (2coats).
As a protective coat : 0.250 Liter (1 coat).
 As a primer coat : 0.200 Liter to 0.250 Liter (1coat)
TOOL CLEANING :
 The tools must be cleaned immediately after use with water and then with petroleum solvent (white spirit).
HEALTH AND SAFETY :
Like all chemical product, avoid contact of ALNAKHIL BITUMEN N (W) with eyes, mouth and skin. If accidental skin contact occurs, remove immediately with clear water and seek medical treatment.
STORAGE :
 Keep out of direct sunlight in covered store.
QUALITY CONTROL:
 ALNAKHIL OF INSILATION : It applies a stringent quality control system utilizing its in-house laboratory Occasional sample are analysed by Independent laboratories to ensure continued adherence to the highest standards (AS, DIN,UNI, etc)
SHELF LIFE:
ALNAKHIL BITUMEN N (W) has a shelf life of one year provided that the product is stored under good storage conditions.
 Available in :

Drum : 175 Liter 

Metal Pail : 18 Liter

Plastic Pail : 15 Liter 

Plastic Pail : 10 Liter
PHONE
++(218)912145019
++(218)922145019
Email Address
info@anakhil.com
Contact times with us ..
Days : Saturday – Thursday
Time : 7:00 AM – 7:00 PM